We work with Tibetan refugees and Tibetans inside Tibet. With well over 120,000 Tibetan refugees in India and Nepal, most of our projects take place in these countries. Working inside Tibet is more challenging, however we do support several projects inside Tibet itself. Wherever our projects are, the main focuses of our work are education, healthcare and empowerment.
Click a country below to read about our work.
---
Rest of the world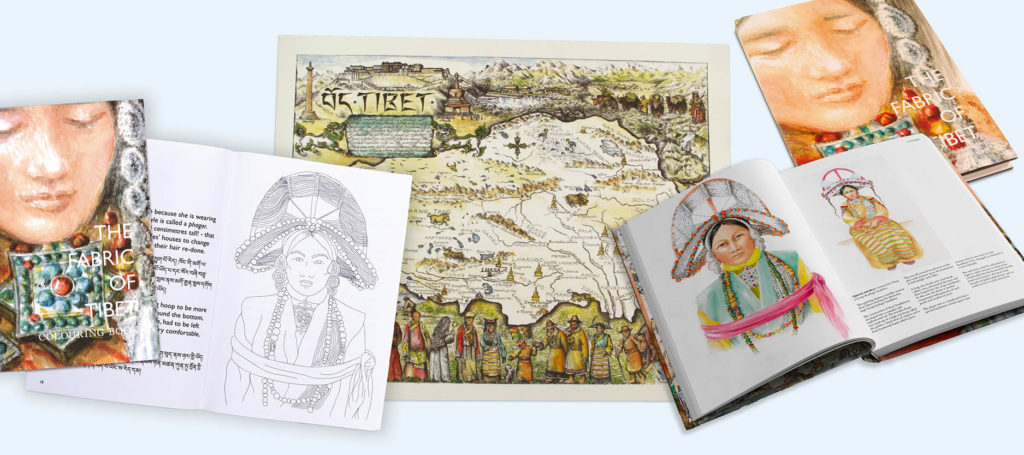 In 2018 we started a small fund to support the preservation of Tibetan culture. Sales of the Fabric of Tibet and Painting the Plateau maps and postcards directly support this work.
In 2019 we produced a Fabric of Tibet colouring book, featuring traditional Tibetan dress from different areas of Tibet, and distributed this to younger children at Tibetan schools in India and Nepal.
We held a sold-out evening of Tibetan music & poetry in London in November 2021 with Tenzin Choegyal in collaboration with the Tibetan Community in Britain and High Peaks Pure Earth.
---
Enlightened Gifts partners & projects
---
Sponsorship partners
Tibetan Homes Foundation – India
Tibetan Homes Foundation and Tibet Relief Fund have been working in partnership since 1965. They are our biggest sponsorship partner, with over 200 children at their schools sponsored by Tibet Relief Fund sponsors. Tibetan Homes Foundation was set up by the Dalai Lama and Rinchen Dolma Taring to care for the many children and elderly refugees who were arriving from Tibet in the 1960s. They now run four schools in Mussoorie, Rajpur, Dekyiling and Rishikesh, and homes for elderly people in Mussoorie and Rajpur. The schools are home to over 2,000 Tibetan children, many of whom are far away from their families in Tibet, India and Nepal.
Tibetan Children's Villages – India
TIbetan Children's Villages looks after over 2,000 children and runs schools in Dharamsala, Bylakuppe and Ladakh. It was originally set up by the elder sister of the Dalai Lama Mrs. Tsering Dolma Takla in 1960 to look after the many children who had been orphaned or separated from their families during the arduous escape from Tibet. There are approximately 100 children from TCV in Tibet Relief Fund's sponsorship programme, most of whom study at TCV Bylakuppe school, with some at TCV Chauntra and TCV Suja.
Since the devastating earthquakes hit Nepal in 2015, we have worked with the Dolma Foundation to support the education of six of the most vulnerable children in the small Himalayan district of Rasuwa.
We have committed to supporting the six children throughout their education. However, the children are all different ages and at different levels of education so the length of support will vary by child.
Sadly, two of the children left school unexpectedly in 2019 due to family problems. However we have been able to help two new students in their place: 13 year old Anita T., who lost her mother during the earthquakes and 11 year old Anil T., who lost his father. Thanks to your support they have been able to continue their education and are delighted to be back in school!
The four other children are doing really well in their studies and Passang T. and Lai S. both came top of their classes last year.
Snow Lion Foundation – Nepal
The Snow Lion Foundation in Kathmandu was established in 1972 to look after the health, education and social welfare of Tibetan refugees in Nepal. SLF follows the policies of the Tibetan government in exile's Department of Education in India and manages 12 schools in Nepal. Today there are approximately 30 children at Snow Lion Foundation schools sponsored through Tibet Relief Fund's sponsorship programme.
Tibetan Women's Centre – India
Tibetan Women's Centre in Rajpur is one of the oldest Tibetan handicraft centres outside Tibet. The centre employs poor and vulnerable Tibetan women and trains them in traditional handicrafts like carpet weaving. This gives them more control over their income and the ability to fit work around family and childcare. The centre also helps to preserve traditional Tibetan crafts and culture. Currently there are 10 women and men at Tibetan Women's Centre being sponsored through Tibet Relief Fund.
Sambhota Tibetan Schools Society – India
Sambhota started in 1999 and runs 34 schools in India with over 4,000 Tibetan children. A great many of their schools are spread across very remote areas of Northern India, in settlements from Tenzingang to Manali. Approximately 60 children at Sambhota schools are sponsored through Tibet Relief Fund's sponsorship programme.
Department of Education – India
The Central Tibetan Administration is the Tibetan government in exile located in Dharamsala, India. The Department of Education at the CTA looks after all the education policy for Tibetans in exile. Tibet Relief Fund's sponsorship programme currently supports the education of 10 students under the Department of Education's remit.
Jamyang Choling Nunnery – India
Jamyang Choling Nunnery in Dharamsala, India, houses approximately 126 nuns aged between 12 and 40 and gives them a full Buddhist education. Nuns who study at Jamyang Choling Nunnery hope to obtain a 'geshema degree', which is the equivalent of a doctorate in Buddhism. Currently there are 18 nuns sponsored through Tibet Relief Fund's sponsorship programme.
Lodrik Welfare Fund – Nepal
Lodrik Welfare Fund was set up in the 1970s to look after Tibetan ex-freedom fighters and their families. The former guerillas are now elderly and unable to work; many never married so don't have families to help them in their old age. Most live in Jampaling and Paljorling settlements near Pokhara, but some live in Kathmandu and India. Tibet Relief Fund has worked with Lodrik for many years to provide essential care for elderly Tibetans, emergency medical treatment and skills training for young Tibetans.
Currently 86 children and elderly Tibetans under the care of Lodrik are sponsored through Tibet Relief Fund.
Pal Ewam Namgyal Monastic School – Nepal
Namgyal is located in Upper Mustang, Nepal. It was established in 2006 by the Khenpo (Abbot), Tsewang Rigzin after he witnessed the harsh living conditions and poor educational opportunities offered to children living in Mustang and wider regions of Nepal. Pal Ewam Namgyal Monastic School offers students a traditional monastic education alongside a modern secular education. The monastery looks after over 80 monks aged between 5 and 18 years old. There are currently 41 monks being sponsored through Tibet Relief Fund's sponsorship programme.
Tashi Lhunpo UK – India/UK
Tashi Lhunpo Monastery is situated in Bylakuppe, South India. Tashi Lhunpo UK is Tibet Relief Fund's only UK partner and currently three monks are supported through our sponsorship programme. Re-established in 1972 under the direction of His Holiness the Dalai Lama, the monastery is home to over 400 monks who seek a monastic education.