Approximately 120,000 Tibetan refugees in India
Remote Tibetan settlements have limited healthcare, education and work opportunities
Hard for some Tibetans to integrate into Indian society
Our work in India addresses these problems. We work to improve education, youth empowerment, healthcare and care for the elderly.
Ongoing
Our Delhi-based youth empowerment project, Empowering the Vision (EVP), offers careers services, leadership training, mentorship and networking opportunities to young Tibetans living in India. In 2019 they ran 14 different programmes that saw 800 students and young people take part!
The Dalai Lama, who is patron of Tibet Relief Fund, had expressed his concerns to Tibet Relief Fund's board that Tibetan youth needed to become more self-reliant. Young Tibetans are often at a disadvantage to their Indian contemporaries when it comes to higher education and work opportunities.
Following a series of focus group discussions with young Tibetans, settlement officers and parents, Empowering the Vision was set up in 2003 to address this need.

Programmes include a career help desk, Building Bridges between Tibetan and Indian schools, and the Global Tibetan Professional Network, helping young Tibetans to follow their dreams and build meaningful careers so they can thrive and be independent. You can read more about their work at www.empoweringvision.org
"I still remember the day when I visited EVP's career help desk … with my mum. I was demotivated and unsatisfied with myself … as I was not able to continue my schooling. The team … recommended Ritinjali Second Chance Programme so that I can continue my formal education and also learn a life skill at the same time. This is my second year at Ritinjali and I feel really lucky to be able to get back on track. I have learnt a lot including things I have missed whilst in school."

Karma Gyurmey was supported by EVP's career help desk and is now back in further education
Why are young Tibetans at a disadvantage in India?
A lot of young Tibetans living in India have grown up in Tibetan settlements or at Tibetan boarding schools. Although there are some very good Tibetan schools, the teaching language tends to be a mix of Tibetan and English. Hindi is taught as a subject in many of the schools but only up to age 11 or 12 so most students do not gain a strong working knowledge of Hindi.
Because of the isolated nature of Tibetan schools and settlements, most Tibetan children grow up apart from local Indian culture. It is not common to have Indian friends or go to Indian schools.
A lack of career advice is also a big problem, with many students unaware of the variety of options open to them or what skills are valued in the workplace.
When students come to leave school and head off to university or work, they often face difficulties in adapting. Navigating the Indian university admissions system and finding the right course can be a daunting prospect – not to mention orientation week and settling in. The Indian careers system can prove equally baffling.
As a result, many young Tibetans end up in poorly paid jobs or taking unsuitable qualifications and earn less than their Indian peers. We believe this doesn't have to be the case and young Tibetans will succeed given the right support and opportunities.
We are proud to be the core funder of Tibetan Ability Centre in Dharamshala. They provide invaluable support to children and young people with special needs, as well as their families, through early intervention therapy, physiotherapy and counselling.
Tibetan Ability also run community programmes to tackle disability-related social stigma and promote inclusion. Their resources on social media have been viewed over three million times!
Your generous support has enabled them to develop and publish a bilingual booklet of guidance and strategies for Tibetan schools in India. This encourages schools to develop inclusive education practices that respect and value diversity and ensure children with special needs can get a quality education in a common learning environment with their peers.
A wonderful success story and the first of its kind within the Tibetan exile community!
In 2020 Tibetan Ability began a Covid-19 response programme to help protect children and adults with special needs from contracting Covid-19. These vulnerable groups are at higher risk of contracting Covid-19 and the risk of death is three times greater than for people without disabilities. They are more likely to contract the virus due to barriers to implementing basic hygiene measures, such as hand-washing, difficulty in enacting or understanding social distancing, needing to touch things to obtain information about their physical environment, and public health information not being disability-friendly or in Tibetan.
The Covid-19 response programme also includes financial support for families of children with special needs whose incomes have been impacted by the pandemic and lockdowns.
Rewa Rehabilitation Centre
Addiction and substance abuse are common in the Tibetan exile community, yet there is little help available for them. Indian rehabilitation centres tend to use fear-based methods such as beatings and families have to pay high admission fees, so coupled with the cultural and language barriers, this discourages Tibetans from trying to get help.
We are working with local grassroots organisation Rewa to open a new rehabilitation centre in Dehradun, India, which is Tibetan-led, culturally relevant, and free to those who can't afford to pay.
Rewa Rehabilitation Centre provides a six-month programme of residential care for up to 30 people at a time. The rehabilitation programme includes:
morning walks
group therapy
games
one-on-one therapy sessions
the opportunity for clients to engage in community service
Rewa's approach is based on treating each person as a human being with dignity and compassion, and addressing their complex needs as well as providing an aftercare programme and help with finding work.
The plight of Tibetan elders within the exile community is of great concern as many find themselves without care and lack the traditional family support once common in Tibet. Many are refugees who escaped from Tibet in the late fifties and through the sixties. Your donations provide them with a safe place to live and ensure they can enjoy their elder years in peace and dignity.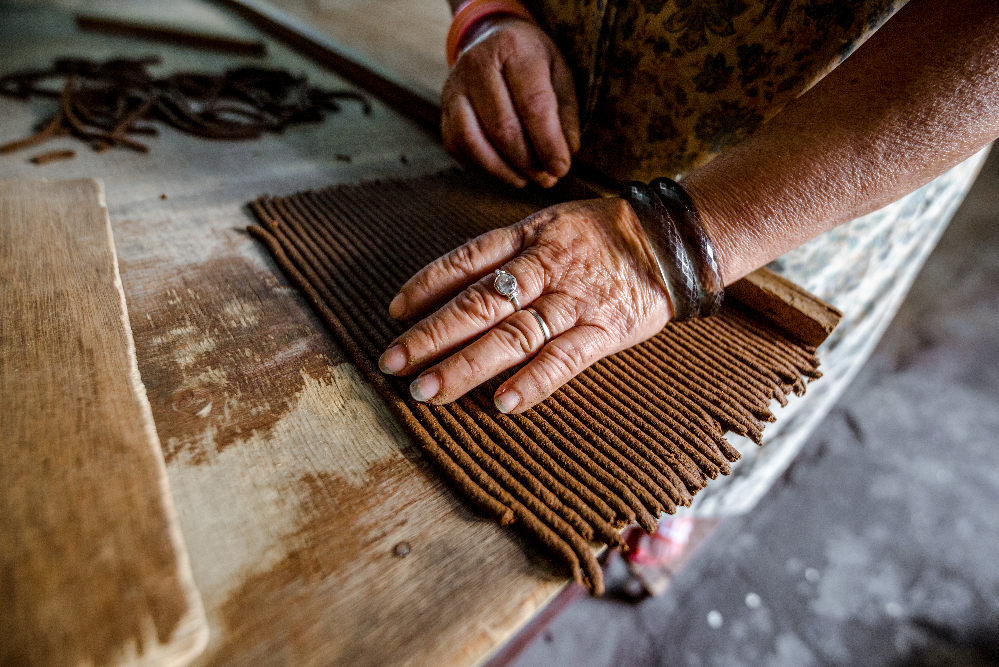 We have supported Tibetan elders living in and around the Tibetan settlement of Dekyiling in Dehradun since 2006, and have an ongoing partnership with the Dekyiling Handicraft Centre and the Settlement Welfare Office. We provide livelihood support to 31 elders and retired handicraft workers in memory of Mr Kesang Wangdu, general manager of the handicraft centre. This includes monthly stipends for three grannies, 26 vulnerable and destitute Tibetans and two retired handicraft workers.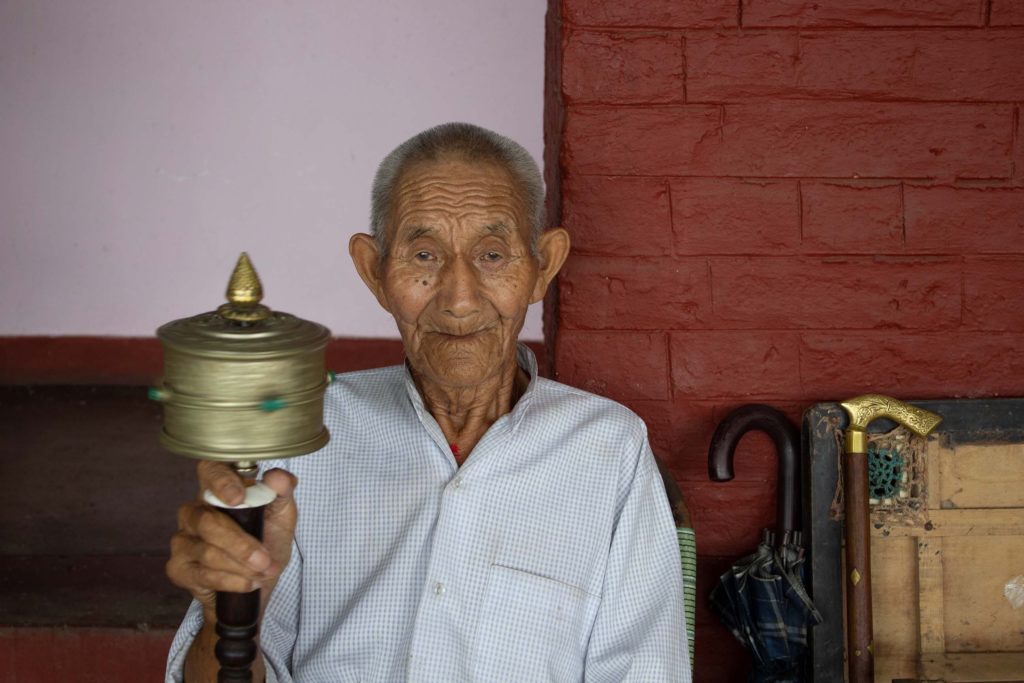 The plight of Tibetan elders within the exile community is of great concern as many find themselves without care and lack the traditional family support once common in Tibet. Many are refugees who escaped from Tibet in the late fifties and through the sixties. Your donations provide them with a safe place to live and ensure they can enjoy their elder years in peace and dignity.
Chushi Gangdruk was a guerilla army fighting for Tibet's freedom in the 1950s and 1960s. They are widely remembered for helping the Dalai Lama to escape from Tibet to India in 1959 when his life was under threat. Now many of the members are elderly and living in India, in an old people's home in Clementtown or scattered around the area of Dehradun. The Chushi Gangdruk Foundation looks after these elderly ex-freedom fighters and Tibet Relief Fund supports them with a stipend to cover their daily living expenses.
The impact of the Covid-19 pandemic and lockdowns in Delhi has been devastating for Tibetans, with the most vulnerable people disproportionately affected. Our local partner Tibetan Cancer Society (TCS) identified around 100 individuals needing support including addicts, sex workers, young unemployed Tibetans and vulnerable elders living alone. Providing dry rations was not practical as many of them have no cooking facilities or are unable to cook. In partnership with Tibetan Cancer Society, last summer we opened a temporary Community Kitchen to deliver two hot meals a day to people who needed them, ensuring these people had food security through lockdown. Through the project we also employed five young Tibetans as cooks and delivery helpers.
The kitchen gained a lot of local support and solidarity, with people volunteering their time and coming forward with donations and words of appreciation that these people are being helped. In September 2021 the Community Kitchen opened in a permanent site in Majnu-ka-Tilla, the Tibetan area of Delhi, where many of these vulnerable people live. The kitchen is now providing free nutritious meals to disadvantaged Tibetans and low-cost meals to students and low-waged workers. Just as we dreamed, it is becoming a thriving community hub where Tibetans can get together and share a meal, and have somewhere to turn to in times of need.
The permanent Community Kitchen is funded up to September 2022 by your donations to our appeals, the Fieldrose Charitable Trust and the Paul Lunn-Rockliffe Charitable Trust. Thank you for supporting the kitchen and making a real difference to people's everyday lives.
If you could support the kitchen's running costs please get in touch: [email protected]
We are opening a new community hub for Tibetans in Delhi adjacent to the Community Kitchen, providing advice on jobs and civil rights and signposting Tibetans who have fallen through the cracks of society to access the help they need. The Hub is due to open in summer 2022 and will be run by our Empowering the Vision staff.
Our vision was not just to provide emergency support through the Community Kitchen, but also to help the kitchen's clients, and Tibetans living in Majnu-ka-Tilla, get on their feet and find help for their problems.
The Hub's planned activities include:
Talks on social and health issues in the community
Employability skills training
Career help desk
University admission advice
Exhibitions and interactive talks by Tibetan artists and visiting professionals
The Hub will also be a source of information on Tibetan civil rights in India and beyond, a co-working space with internet access, and hold social events like open mic nights, film screenings and performances. We plan to collaborate with other project partners like Rewa and Tibetan Ability to offer services and workshops.
It is groundbreaking to have this "citizens advice bureau" available for the Tibetan exile community, and something much needed.
Cancer is scary enough to face without having to worry about how you will afford your treatment. This is why we help Tibetans with cancer through the Compassion Home.
Housed in the same building as the Community Kitchen and Hub in Majnu-ka-Tilla, Delhi, and run by our project partner Tibetan Cancer Society, the home gives 12 Tibetans undergoing cancer treatment a safe place to stay. The patients in question usually have no family or means of financial support. We funded the setup cost of the Compassion Home in 2021 and support the ongoing rent and expenses for the whole building.
Creches in Northern India
Access to flexible, affordable and enriching child care is vital for working parents, and this is no different for Tibetan parents living in India.
We are funding creches in two Tibetan settlements: Bir and Choephelling.
Our funding ensures a living wage for the creches' caretakers, cooks and nannies, as well as covering running costs and providing nutritious meals and toys for the children. In Bir, we are also organising childcare workshops for new parents in partnership with Manjushri Educational Services.
This lightens the burden on working parents and means more women can continue working after having children. It also means the children receive quality childcare and a stronger start in life.
Early Literacy Project: baby board books and children's library
In 2020 we partnered with Manjushri Educational Services to produce five Tibetan language baby board books and open a children's library in Dharamsala. Access to child-friendly, culturally relevant books is vital for developing literacy skills at a young age. However, there are still very few books in Tibetan for young children. This project supports Tibetan children with their early literacy development and helps keep the Tibetan language alive.
We are also distributing the books to Tibetan creches, childcare centres and primary schools across India and Nepal, ensuring as many children as possible have access to the books, even if their school can't afford to buy them.
The children's library was set up in 2020 in Mcleod Ganj, Dharamsala. The library has around 500 books in Tibetan and English, and runs programmes for children including story reading and a travelling library to local creches and schools.
During summer 2021, the library remained open, creating an inviting space for a local community of young readers when the second wave of the Covid-19 pandemic had cancelled many other activities. To keep up children's engagement with reading during the pandemic, Manjushri also developed and uploaded five story "read aloud" videos on social media.
In the remote northern region of Ladakh, India, it is hard for families to access reading materials in Tibetan. Children need a wide variety of books available from an early age to be confident readers. We are working with local grassroots organisation Shatsa to get Tibetan children in Ladakh into the habit of reading a wide variety of materials, ultimately strengthening their academic progress and at the same time preserving the Tibetan language.
Shatsa are running:
a reading space with storytelling, activities and guided reading sessions
a mobile library
a reading intervention programme for 3-9 year olds in different nomadic regions in Jangthang
weekly parenting workshops in partnership with Manjushri Educational Services
Over 500 children will benefit and children of nomadic families in particular will now be able to access books in Tibetan.
Tibet Relief Fund has been working with Tibetan Homes Foundation since 1965. They are our biggest sponsorship partner, with over 200 children at their schools sponsored by Tibet Relief Fund sponsors.
Tibetan Homes Foundation was set up by the Dalai Lama and Rinchen Dolma Taring to care for the many children and elderly refugees who were arriving from Tibet in the 1960s. They now run four schools in Mussoorie, Rajpur, Dekyiling and Rishikesh, and homes for elderly people in Mussoorie and Rajpur. The schools are home to over 2,000 Tibetan children, many of whom are far away from their families in Tibet, India and Nepal.
Our support has covered generators, solar panels to heat water, furniture, bedding, toys, equipment and training.
Today we support students and elders through sponsorship, and provide an emergency medical fund so that every child can access medical care or surgery if they need it.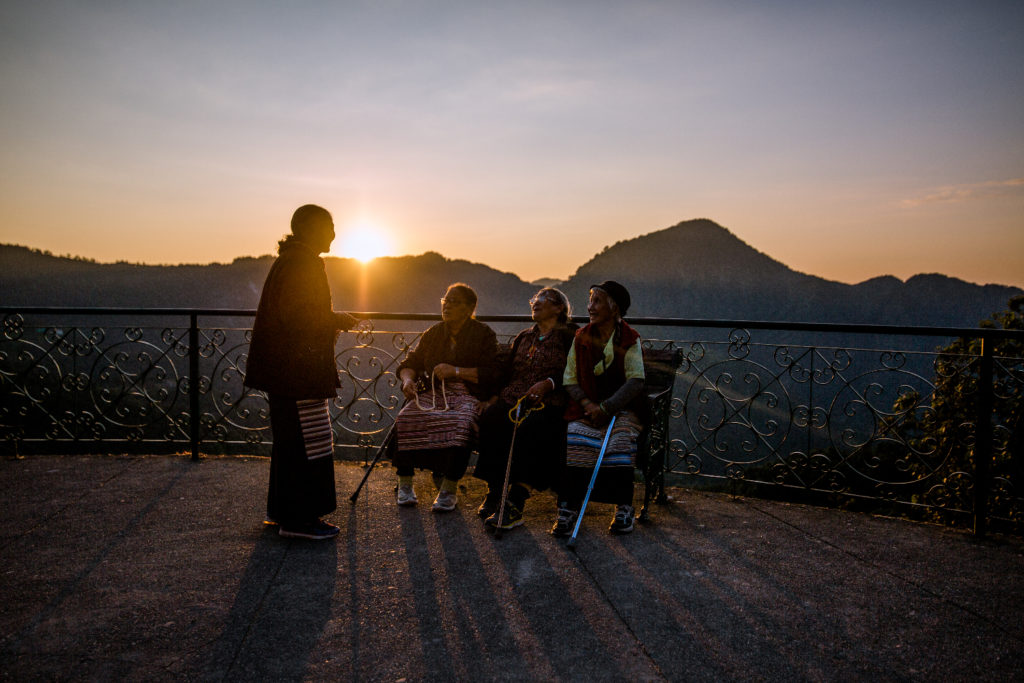 Since 2007 Tibet Relief Fund has supported Help on Hand, a project based in Chandigarh, north India. Tsering Dolkar (who is known locally as the 'Tibetan Mother Teresa') has voluntarily run the project since 1995 to provide a vital lifeline for hundreds of seriously ill Tibetan patients who are in desperate need of medical treatment.
When Tsering Dolkar first arrived in Chandigarh, she noticed the lack of care and resources for hundreds of Tibetans arriving for treatment at some of India's most renowned hospitals. Tibetan patients often travel great distances to get specialist treatment at hospitals in Chandigarh, some even travelling all the way from Tibet
When they arrive, many cannot navigate the complicated Indian hospital system. They have trouble making appointments and getting to see the doctors they need. Many have little or no knowledge of Hindi or English and struggle to communicate their problems. Understanding diagnosis and treatment can be even more baffling.
On top of this, accommodation in Chandigarh can be expensive and most people cannot afford hotels or hostels to stay at during their treatments, which can sometimes last for months. People will often risk their health and travel to Chandigarh for the shortest time possible before making the long journey home before they are sufficiently recovered. Over the years, several people have died doing just this because they could not afford to stay near the hospital.
Help on Hand provides these Tibetans with a safe and free place to stay during their treatment, assist patients with making appointments and go with them to see the doctors, translate and explain what the doctors tell them and help them get their medicines and prescriptions. This makes it possible for Tibetans to access medical care and removes much stress and anxiety from the process, so patients can focus on getting well.
Our support helps to pay for an assistant for Tsering, patients' food and accommodation, medicines, and all the other services Help on Hand provides.
Ngoenga School for Tibetan children with special needs
Ngoenga School in Dehradun is the only specialist school for Tibetan children with special needs in northern India. It is home to 50 children from Tibet, India, Nepal and Bhutan, and provides all their care, education and rehabilitation. The school was named by the Dalai Lama, who also provided some of the funds to start the school. "Ngoenga" means extremely happy or joyous.
Tibet Relief Fund has supported Ngoenga for nearly 20 years, funding equipment, medicines, wheelchairs, a new toilet block and a generator to ensure an uninterrupted water supply
We currently fund a physiotherapist at the school. Regular physiotherapy for conditions like cerebral palsy and muscular dystrophy can have an enormous impact on a child's wellbeing and quality of life.
The stigma attached to disability in the Tibetan community means it can be very hard for children and adults with special needs to integrate into education and work, and get the care and support they need. Ngoenga is one of the few places that provides this. The staff at Ngoenga do excellent work caring for their students and helping them live a full and happy life.
Tibetan Women's Centre in Rajpur is one of the oldest Tibetan handicraft centres outside Tibet. The centre employs poor and vulnerable Tibetan women and trains them in traditional handicrafts like carpet weaving. This gives them more control over their income and the ability to fit work around family and childcare. The centre also helps to preserve traditional Tibetan crafts and culture.
We have worked with Tibetan Women's Centre for several years, funding recent renovations to the carpet trimmers' room and repairs to the drainage system.
In 2021 we started an emergency medical fund at the centre to help residents access medical care, which most could not afford. Thanks to the fund, one resident has now been treated for lung cancer in Delhi (through our project partner Tibetan Cancer Society) and another handicraft worker has received essential postnatal treatment after the tragic loss of her baby during childbirth
Library of Tibetan Works & Archives creche
The Library of Tibetan Works and Archives opened in Dharamsala in 1970. It collects and preserves precious Tibetan books and manuscripts, teachings and artefacts.
Many of the Tibetan employees of the library have young children. So that they can work to support their families without worrying about childcare, the library provides a small crèche for children under three. We fund a salary top-up for the creche's nanny to ensure they receive a fair salary.
Unfortunately, the rooms of the crèche are particularly badly affected during monsoon season with furniture and fixings being constantly damp and developing mould. This has been causing some of the children to become unwell
With a small grant from Tibet Relief Fund, the crèche has been able to buy a dehumidifier to keep the air dry, the building in top condition and – most importantly – the children safe and well!
Gapa School teachers' salaries
Gapa is one of the poorest Tibetan settlements in India. It is located in Kamrao, a remote area in Himachal Pradesh. Due to the remoteness of the settlement and lack of livelihood opportunities, it has proved really difficult for the settlement school to hire teachers willing to live and work there long-term.
We support the school by covering fair salaries for two Tibetan teachers, stationery and teaching material
Sermey Thoesam School is located in Bylakuppe Tibetan Settlement in south India and is managed by Sera Monastery, one of the three great seats of learning of Tibetan Buddhism. Though it is a feeder school for the monastery, the main curriculum is the same as the mainstream Indian education system and children have the option to continue schooling or join the monastery after they finish eighth grade.
The school provides free education and many of its students come from remote Himalayan regions where there is a lack of access to education. Since the school relies on external donations, the teachers used to receive a very low salary, which caused a high staff turnover and difficulty in recruiting teachers. We fund salary top-ups for 22 teachers and two staff members, along with providing extra nutrition in the form of milk, eggs and fruit to 643 students.
Tibet Theatre is an amateur contemporary theatre group established in 2011 by Lhakpa Tsering, a Tibetan activist and campaigner based in Dharamsala. Lhakpa fled Tibet as a child and was educated in the Tibetan Children's Village school.
Tibet Theatre creates powerful shows which reflect the challenges and triumphs of the Tibetan exile community, as well as tackle difficult issues within the community that often remain hidden, such as domestic violence.
Due to the Covid-19 pandemic and subsequent lockdowns in India, Tibet Theatre has had no income to cover its core costs. We are supporting their office and staff, as well as an exciting new film project to raise awareness about domestic violence, child abuse, mental health and substance abuse which affects many in the exile community.
Tenzingang is a remote Tibetan settlement in north east India, near the border with Tibet. Its remote location and lack of work opportunities makes it one of the poorer settlements in India. Most people here earn a meagre living from field work or small handicrafts.
Tenzingang is home to 900 Tibetans and only has a small health centre on site. The nearest hospital is 45km away along dangerous and landslide-prone roads. For major emergencies or treatment, the nearest fully equipped hospital is 360km away in Tezpur.
Buses in the area are infrequent and taxis are both unreliable and unaffordable. But for many years the people of the settlement had no other choice but to rely on these options when they needed to go to hospital.
In 2009 the Dalai Lama's sister, Jetsun Pema, visited Tenzingang and, touched by the plight of the residents, donated an ambulance for the settlement's Healthcare Centre so that the seriously ill and medical emergencies could be taken to hospital without delays. The centre was initially able to hire a driver on a short-term contract, but due to the bare subsistence level of the salary, the driver decided he could not afford to continue in post.
With the help of a generous grant from the Eranda Foundation, we have employed an ambulance driver on a fair living wage since 2013*, ensuring anyone who needed to get to hospital could do so. On average, the ambulance is used in 100 emergency cases a year.
The driver also takes patients to hospital for outpatient check-ups, referrals to specialists and pregnancy checks, as well as taking patients to have non-emergency operations. The settlement office uses the ambulance once a month to purchase medicines and medical supplies for the settlement's health clinic.
Tenzin Kunsang from the settlement says "Your support for all these years has been a blessing to our community". The ambulance has saved many lives and means the residents of Tenzingang feel safe.
*This was covered by the CTA Department of Health from 2018 – 2019 and taken over again by Tibet Relief Fund from 2020.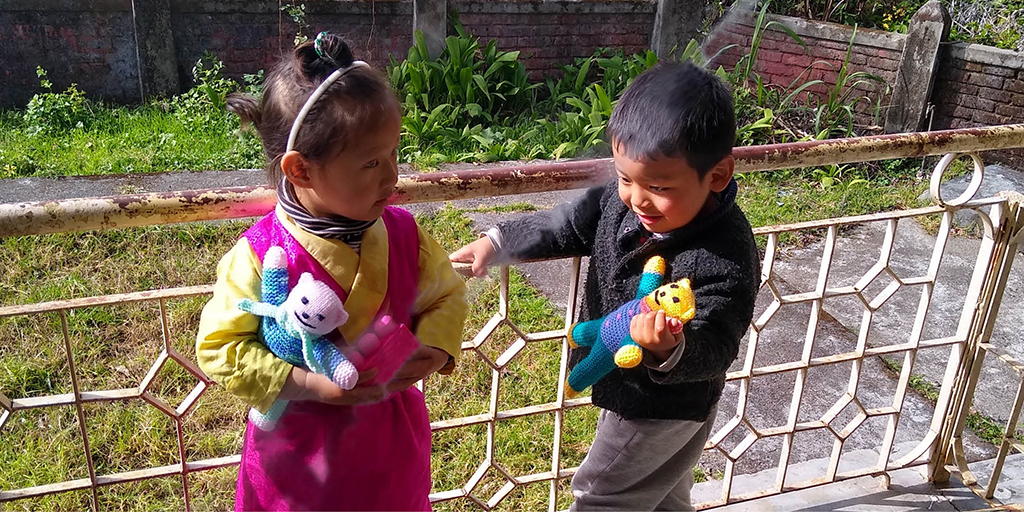 ---
Completed
Pandhra Mile – Completed 2021
When our CEO Philippa visited Pandhra Mile, a small Tibetan settlement in Manali, in 2018, she was shocked to see the difficult conditions that the 53 residents, mostly elderly, were living in.
The settlement is next to a river which regularly floods, and is bounded on the other side by a main road which is due to expand soon. Since settling there after the 1959 uprising, they have never had proper access to electricity or medicines. Nor have they ever had a safe, reliable supply of clean water.
Pandhra Mile is not a safe place for elderly people to live. Fumes from the busy road choke the settlement. The solitary handpump doesn't provide enough water for all the residents and there are just two toilets between 53 people.
The residents are understandably attached to their home, and reluctant to move, though this will need to happen in the future as the river flooding gets worse each year and the road is expanding. In the meantime, there is a lot that can be done to improve the living conditions there.
In 2021 Tibet Relief Fund sent a grant to build a new toilet block with wash basins for the residents and solar panels for hot water, so that they have hot water in the winter months.
H-Pylori testing – Completed 2021
Stomach cancer is the number one killer of Tibetans in the Himalayan belt. In autumn 2020 we began a new project in partnership with Tibetan Cancer Society to help prevent stomach cancer in the Tibetan exile community.
The team visited Tibetan settlements all over northern India, as well as remote and nomadic communities in places like Ladakh, to test people for H-Pylori, a common gut bacteria which can lead to stomach cancer if left untreated.
2,369 people have been tested for H-Pylori and over a thousand were found to have the bacteria present in their stomachs. Those people have now been treated, avoiding potentially fatal consequences.The health camps also educated people on the risks and signs of stomach cancer.
Tenzin, Project Liaison Officer in India for Tibet Relief Fund, says "Especially in remote settlements there is little knowledge of this bacteria and people think they can treat cancer with health tips that aren't going to help. This work demystifies the disease and saves lives."
Library of Tibetan Works & Archives – Completed 2017
The Library of Tibetan Works and Archives opened in Dharamsala in 1970. It collects and preserves precious Tibetan books and manuscripts, teachings and artefacts.
The library has an audiovisual department which preserves recordings of contemporary and ancient Tibetan events as recalled by witnesses, scholars, refugees and other important figures in Tibetan history. The collections at the library are a unique and very important resource of Tibetan culture. Many of the items housed there were smuggled out of Tibet when it was invaded by China in 1959.
In 2017 Tibet Relief Fund funded a new computer and backup storage machine to help the library digitise tens of thousands of hours of old and rare recordings, ensuring they are safely preserved for many generations to come.
Solar greenhouses in Ladakh – Completed 2022
In 2022 we built two new passive solar greenhouses in the Ladakh region in partnership with TOFILL (Tibetan Organic Farming Leh Ladakh) to help Tibetan communities grow vegetables year-round.
It is very difficult to grow vegetables in this remote region of northern India. People have to either buy expensive vegetables imported from other areas, which many Tibetan families cannot afford, or go without, risking malnutrition and disease.
The design of the passive solar greenhouse is cost-effective, low maintenance, lasts for many years and means crops can be grown through the winter, including leafy vegetables which provide essential vitamins and minerals.
The new greenhouses are at TCV School in Hanle and SOS TCV School old girls' hostel in Leh, so the students can get involved and help grow the vegetables. The benefits to the local communities include better nutrition, saving families money and extra income from selling vegetables. It also gives these communities food security, and they can learn new skills while reducing the high carbon cost of importing vegetables.
Clean water in Gapa – Completed 2017
Gapa is one of the poorest Tibetan settlements in India. It is located in Kamrao, a remote area in Himachal Pradesh.
In June 2017 we installed a new water filter system in the settlement, ensuring the whole settlement has access to clean drinking water which won't make them sick.
Located just below the Himalayan mountain range in north India, Gapa should benefit from fresh, clean mountain water. But this is not the case.
Limestone mining in the area has polluted the tap water for more than five decades. The state government has now shut down the limestone mines, but the water table has been permanently damaged.
Most people in the settlement could not afford to drink anything other than the contaminated water which often made them ill. Without clean water, people get sick and can't go to school or work, at a huge cost to their families and their futures. Children in Gapa settlement were often missing school due to illness caused by drinking dirty water.
Thanks to the water filter, the residents of Gapa can rest easy in the knowledge that their drinking water won't make them ill. Our funding includes regular maintenance and servicing of the filter.
Lha Clear Vision – Completed 2017
Many people in the Tibetan community suffer from poor eyesight and related problems. This is partly due to lack of regular check-ups and people not getting the glasses they need
Our project partners Lha have been working since 2009 to address this problem by offering free eye tests and prescription glasses to the local Tibetan community.
In 2017 we provided funding for Lha to run their health camps at Dolma Ling and Shugsip Nunneries and Ningma Monastery – all in Bir, Himachal Pradesh.
A total of 142 monks and nuns received free eye-tests as well as basic medical and dental checks, and the 62 people who needed new glasses were given brand new prescription glasses.
Cinematography club – Completed 2017
Tibet Relief Fund has been working with Tibetan Homes Foundation since 1965. They are our biggest sponsorship partner, with over 200 children at their schools sponsored by Tibet Relief Fund sponsors.
Tibetan Homes Foundation was set up by the Dalai Lama and Rinchen Dolma Taring to care for the many children and elderly refugees who were arriving from Tibet in the 1960s. They now run four schools in Mussoorie, Rajpur, Dekyiling and Rishikesh, and homes for elderly people in Mussoorie and Rajpur. The school in Mussoorie is home to 1,152 Tibetan children, many of whom are far away from their families in Tibet, India and Nepal.
In 2017 we funded two teachers and one senior student at THF Mussoorie to attend a three day filmmaking and photography class, and purchased a DLSR camera for the school.
The teachers now lead a weekly Cinematography Club which is incredibly popular with the students, with nearly 200 joining in the first week. The weekly club is a wonderful idea as students get the chance to learn new skills and have fun at the same time. The practical photography and videography skills they learn at the club are great for those students wanting careers in design, arts or the media.
Students have been covering school events, producing regular news updates and have even produced a full-length film.
Sanitation in Spiti – Completed 2018
Spiti is a remote valley in north-west India. It is home to many ethnic Tibetan families and is one of the poorest regions of India.
The altitude and harsh climate of Spiti means it is cut off from the rest of the country for months at a time as the heavy Himalayan snows make passes and roads impossible to cross.
Of the 3,000 school-aged children across Spiti valley, 500 go to Munsel-ling school and 300 of these live at the school throughout the year. The 178 girls who live and study at Munsel-ling were previously sharing just six toilets and showers between them. Their only toilet block was a one kilometre walk from the main building and dormitories. During the winter nights, the girls had to walk there alone, in the dark, through heavy snow drifts. In school time, it would take a 20-30 minute round trip out of class, a big disruption to their studies.
Open defecation was a big problem with girls not having time to make the round-trip. Contamination of the water supply was common and every year at least 60 pupils were falling ill with dysentery.
In 2018 we funded a new toilet and shower block much closer to the school building, giving the girls much better access to toilets and showers. Instead of 30 girls to one toilet, there are now just 12. They no longer have to make lengthy trips to the toilets and so don't have to miss more than a couple of minutes of class to use the loo.