1% for the Planet joins causes with donors who commit to give 1% of their salary or business sales to create a healthier planet and help future generations thrive.
You might already know a few of our planet-friendly projects…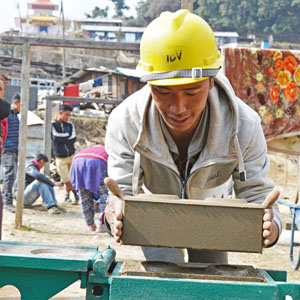 Rebuilding Bakhang village in Nepal using earthquake-resistant structures and locally-made earth bricks which cut carbon emissions by up to 60%
New solar community greenhouses & organic farming in the remote north of India, where vegetables are difficult to grow
Solar heated water & a new toilet block in Pandhra Mile settlement, India, which had very poor sanitation
Solar panels for hot water at Tibetan Homes Foundation school
A new water filter at the Tibetan Homes Foundation retired staff quarters to avoid the cost and negative impact of bottled water
If you or your business could join 1% for the Planet, head to www.onepercentfortheplanet.org. You can support Tibet Relief Fund and it will count towards your 1% goal.