Grant Amount: £45,007
Empowering the Vision is our flagship project for young people, set up by Tibet Relief Fund in 2003. Over the years of working with Tibetans in India it became clear to us that there was a need for specialist help for young Tibetans.
Separated from their families, or with their parents not educated themselves, Tibetan children frequently do not benefit from the necessary support and encouragement in their education and future that their Indian contemporaries receive. Furthermore, separation from parents at a young age exposes children to profound risks, including emotional trauma, and exploitation. Consequently, Tibetan children are falling behind; statistics show they achieve 10% less in their school grades than their Indian equals.
After leaving school, Tibetans in India face poor employment prospects. Although Tibetans are free to work, as non-citizens it is difficult for them to find jobs. Coupled with poor educational achievement, this has led to a high unemployment rate amongst young Tibetans in India. For many that do find work, their lack of qualifications and training means they earn too little to escape from poverty or to find meaningful job satisfaction. A study by a team of Indian sociologists put the average annual income of a Tibetan in India at around $150, whilst the average for an Indian was $350.
Based in Delhi, Empowering the Vision works with Tibetan children from school age to university level through a variety of initiatives, including school and university outreach programmes, to help them to gain confidence, achieve their full potential and find employment. Since its launch, the project has helped 2,780 young Tibetans.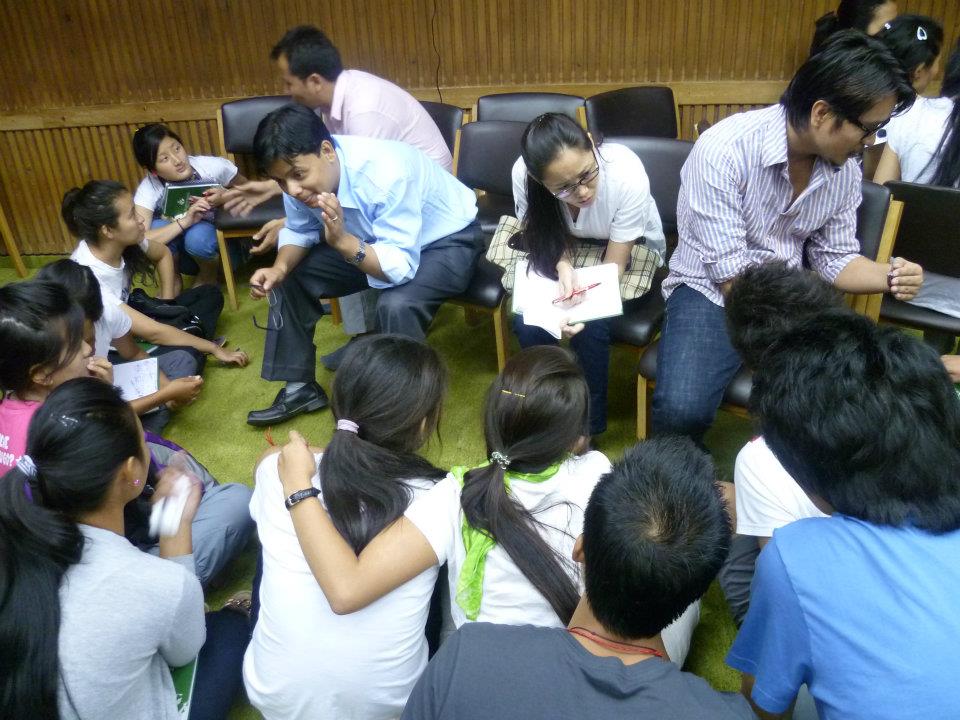 ---
Empowering the Vision helps young Tibetans by:
Holding a twice-yearly conference for Tibetan university students in India to help build confidence and leadership skills
Organising workshops in employability skills, business, communication, English language, careers and higher education guidance, soft skills and confidence building
Visiting schools to motivate and guide young Tibetans
Running an intensive university entrance workshop
Building an international network of Tibetan professionals to provide mentoring and advice
Running a website with information, resources and job bulletin boards
---
Tibet Relief Fund remains Empowering the Vision's (or ENVISION as it is known to Tibetans in India) core funder and, with this year's grant of £45,007, the project is a major part of our work. We support the Tibetan-run and staffed office in Delhi and the wide range of activities it co-ordinates.
Dechen Lhamo, a young Tibetan studying Political Science, says:
"The mock interview and the session on communication skills were very useful. Since the beginning of my college life, I have been guided and helped by ENVISION. I always look forward to your workshops."
Kyi Lhamo, who attended a workship on effective presentation skills in December, said:
"I like how they trained us. It's effective and practical and we saw a lot of improvement in all of us after the workshop."
Plans for the upcoming year include leadership and mentoring workshops for schoolchildren, science workshops in Selakui school, youth camps in Panchgani, ten 'Building Bridges' workshops and the annual Global Vision for Young Tibetans conference – and much more.
---
Yonten Tenzin, 20
Yonten, a young Tibetan living in India, is a bright and enthusiastic young man. However he had dropped out of college and, like many young Tibetans, was unsure about his path in life and career goals. Empowering the Vision got him back on track and he is now interning at an advertising firm in Delhi. Thanks to the workshops and motivation he has received from EVP, Yonten is sure of his goals and has decided to finish his studies in order to become a graphic designer. Yonten now believes in himself and knows his potential.
Choden Whangmo, 21
Choden trained in secretarial skills at vocational college and had planned to find work as a receptionist. However, she heard about the Empowering the Vision careers centre through word of mouth. The EVP careers counsellor advised her to aim higher and go for a job as private secretary to a retired army general. This would greatly improve her English, enable her to interact with a wide range of people and help her get a better job afterwards. Choden got the job and has found her language skills and confidence have improved immensely – she speaks in English and deals with new people all day!