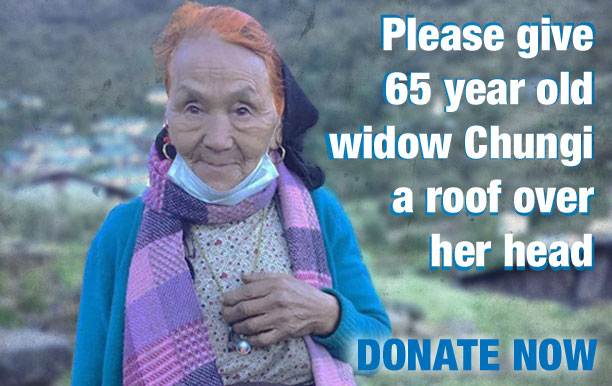 Thanks to you, children living in the remote village of Bakhang now have a safe school. But many residents – like Chungi – still don't have homes.
Chungi is 65 years old and still sleeping under a tarpaulin shelter at night. This is taking a toll on her health. She needs your help.
Chungi's husband died 15 years ago and she lives alone, rearing animals to make a meagre living. It is a hard life. At 65 Chungi urgently needs warmth, comfort and safety. But instead she goes to sleep each night under a flimsy tarpaulin shelter. This gives her little protection from the harsh mountain climate.
You can change Chungi's life with a donation and let her know you care.
Tibetans in Nepal are still struggling to rebuild their lives nearly three years on from the 2015 earthquakes. Can you imagine living in these conditions for so long?
Please will you donate today to build a safe home for Chungi?
£26 pays a day's wage for two labourers to build Chungi's house
£52 funds 100 earth bricks to build a safe home using local materials
£77 means Chungi can have a working toilet in her home
Thank you for caring.