Since we first began supporting this fantastic project in 2008 there have been many developments. Following on from our earlier articles, we are happy to update you on the impact the project has had as it has grown over the last year.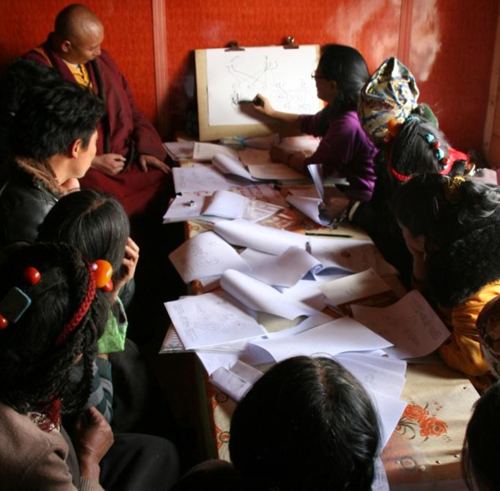 As previously reported, large numbers of Tibetan women in the area succumb to serious sickness and, all too often, death resulting from pregnancy and childbirth. Through the construction of a maternity clinic for remote and nomadic communities, as well as the provision of basic maternal health training for mothers, fathers, families and communities, our project partners are working to prevent these unnecessary deaths and sicknesses and improve the maternal health of these nomadic communities.
Although ten per cent of the building is still to be completed, the existing structure has already been used for training purposes over the summer months. This training focuses on basic health and hygiene, nutrition, reproductive health and the importance of pre-natal and post-natal care. Mothers are taught to recognise any danger signs that occur in pregnancy and communities are supplied with the skills to be able to act in a safe way, to protect the lives of mothers and their infants.
In a recent project report we learnt how students Yeshi and Lhadon put their training skills to great use.
As heavily pregnant Tashi Nima prepared to give birth, Yeshi and Lhadon, following guidance they received in their training, persuaded the expectant mother to give birth in their family home rather than the usual cattle shed!
When Tashi had difficulties with the delivery of the placenta and was bleeding heavily the two attendants arranged for her to be taken to hospital. En-route they followed the correct procedure to ensure the safety of mother and child. Following a blood transfusion and further care, both mother and son are alive and well.
Tashi said "If it was not for these two women, and the community leader with the project car, my son and I would not be here".
In the coming year, the project will focus on continuing maternal health training for locals and will support over 14,000 nomadic Tibetan people. This summer the maternity clinic building should be completed and, after this, the clinic will be seeking to fund a Tibetan doctor and birth attendants to work in the maternity unit.
It's great to be able to share stories like this; thank you to everyone who enabled us to support this project. We look forward to updating you on the progress of the maternity clinic building and future training successes.
APPEAL: 90 per cent of Tibetan women give birth without support from a skilled birth attendant