Grant amount: £45,013
Tibet Relief Fund first began working with Tibetan youth in 2004. We wanted to address the growing problem of young Tibetans underachieving and earning a lower average income than their Indian peers. In 2007 the Empowering the Vision Trust, a registered Indian trust, was established with Tibet Relief Fund as its core funder. Since then we have worked through its office in Delhi to deliver a wide-ranging programme of workshops, career guidance, soft skills training and much else to young Tibetans living in India.
The office is headed by Youdon Aukatsang as director, and now has five further Tibetan members of staff. Although based in Delhi, Empowering the Vision reaches young Tibetans in nine Indian states – all the way from Tamil Nadu in the south to Himachal Pradesh in the north.
In 2015, in addition to its core programmes, Empowering the Vision organised a fifth Global Tibetan Conference, this time in Pondicherry
(in the aftermath of the Chennai floods), and led an interactive series of theatre workshops in schools to commemorate the Dalai Lama's 80th birthday.
The year also saw a fellowship programme established where young Tibetans can apply for a grant to fund specific career-advancing training, internships or vocational courses. Five fellowships were awarded, funding electrical training, a three-month internship with Adapt (an Indian trust that works with disability), an internship with a leading PR company in Mumbai and an acting course.
Following on from the first Tibetan Entrepreneur Conference that Empowering the Vision organised in December 2014 in Mundgod, an Entrepreneur Fund was also initiated. Two loans were given; one for a tractor service business in Kollegal (south India) so local Tibetan farmers can rent a tractor from a Tibetan business instead of local Indian businesses making the costs more affordable.
The second loan was for a garbage collection and recycling business in south India (Mundgod).
Interview with Youdon Aukatsang, Director of Empowering the Vision.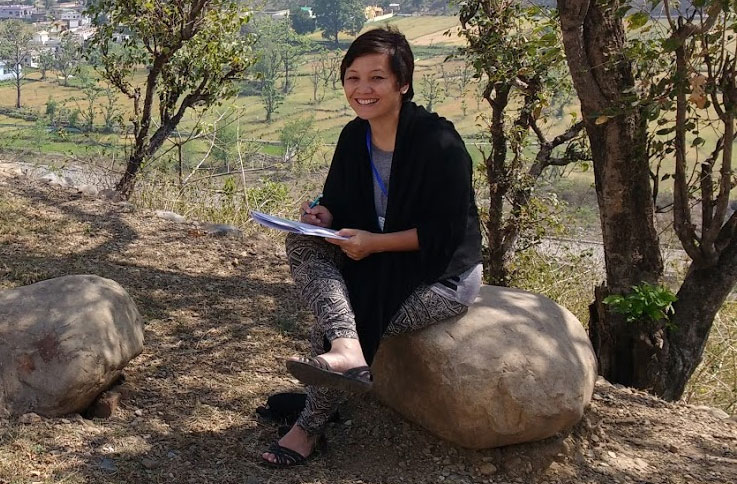 After nearly nine years in post as Director of Empowering the Vision, Youdon is relocating with her family to Sikkim. Whilst this is a big change, we are delighted that Youdon will continue to work part-time as Director. We have recruited a Deputy Director, Nima Choden, who will head up the Delhi office. Here Youdon reflects on her time in post and talks about the difference the project has made over the years.
What is your favourite story about someone that EVP helped and why?
My favourite story is of a girl who was among our first beneficiaries of our school outreach programme back in 2008. Later she scored 95.3 per cent in Grade 12 but couldn't gain admission to the college of her choice owing to lack of awareness of the last dates for admission. ENVISION intervened and managed to help her get admission to the college of her choice where she did very well.
Has EVP made a noticeable difference to the Tibetan community during your time as Director?
Assessing impact is always a challenge! Yet I do feel that we have made a difference. We are the first Tibetan organisation helping young Tibetans, irrespective of their educational background, to find jobs. Even a very modest figure of people we have helped find jobs would be 100 and at least over 300 with job related services. I have met several beneficiaries who are now set up with their own businesses. I think over the years, and for all our programmes, we can say we have helped and interacted with over 3,000 young Tibetans.
What do you think the future holds for young Tibetans?
I am an optimistic person and would say the future will be good for Tibetans especially when they are driven, passionate, responsible and resilient.