Language and culture preservation in Bakhang village, Nepal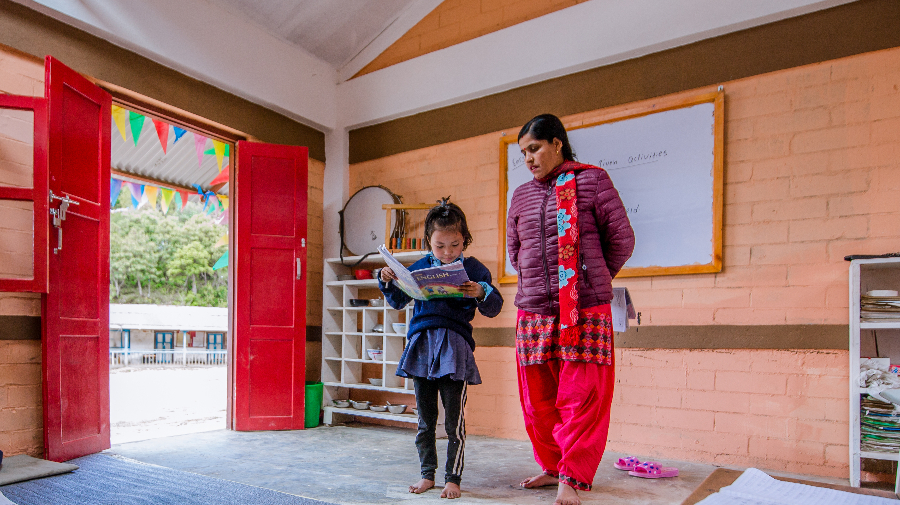 We have been working with the Bakhang community since 2008, where your donations fund two Tibetan teachers who have the important task of teaching Tibetan to local children. Penpa met with Bakhang's teachers who explained why this is so crucial:
"[Bakhang is] very close to the Tibetan border. Their ancestors are from Tibet so are very close to Tibetan language and culture andpractice Tibetan Buddhism. They share a common culture but the younger generations are forgetting. Tibetan language is the medium to save it.

I feel very happy that part of the region wants to preserve their language and culture. In the next few years it will give a fruitful result."

Early years literacy
Access to child-friendly, culturally relevant books is vital for developing literacy skills at a young age. However, there are still very few books in Tibetan for young children.
Tenzin explains "[There is] an existing gap in Tibetan communities. Parents know the importance of education but don't know which part. They often invest a high amount in college and university but don't invest much in primary education or crèches."
With your support, Manjushri Educational Services in Dharamsala is filling this gap. They have published five baby board books in Tibetan and are distributing them to Tibetan childcare centres and the wider community.
Supporting teachers through Covid-19
The pandemic has disrupted education around the world, with teachers going above and beyond so students are still able to learn.
In India and Nepal many teachers have been struggling to get by. Tenzin explains, "teachers have the same expenses even though schools are closed." Through your generosity, we could help.
Snow Lion Foundation (the main educational body for Tibetans in Nepal) lost a lot of donors due to the pandemic, so at Tashi Pakhiel settlement near Pokhara we are funding salaries of five teachers at risk of losing their jobs.
In India you supported salaries for crèche staff in Miao and Bir settlements and, at Sermey Thoesam monastic school in Bylakuppe, you funded teachers' salaries as well as weekly deliveries of nutritious food for the 643 young monks. Thank you.