Thank you for supporting our appeals this year. Without you we simply couldn't do our work, especially during this most challenging year. Here's how you are making a difference …
Preventing deadly stomach cancer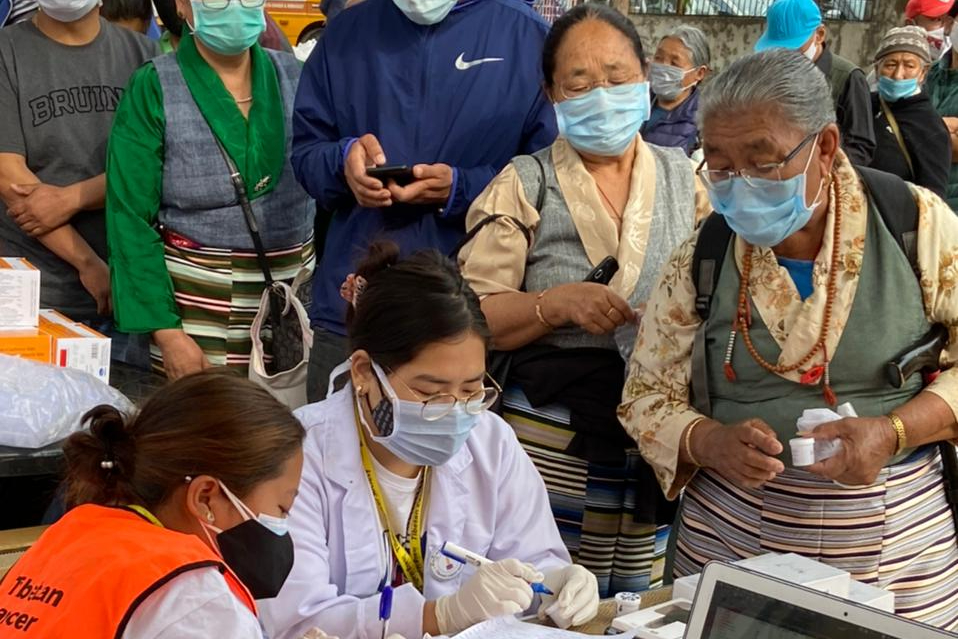 Your donations to our autumn appeal made it possible to screen 2,369 Tibetans for H-Pylori, a bacteria which can lead to stomach cancer – the number one killer of Tibetans living in the Himalayan belt.
In Dharamsala, Delhi, Dehradun and the remote nomadic area of Chang-thang, more than 40% of those tested were found to have H-Pylori in their stomachs. Those people were treated, avoiding fatal consequences.
Nurses also showed cancer awareness films explaining the early warning signs of stomach cancer, and distributed facemasks which everyone was delighted to receive as they are expensive and hard to come by.
Delhi Community Kitchen
Lockdown has been challenging for Tibetans living in India. Last summer our friend and colleague, Tsultrim, who runs Tibetan Cancer Society, did a survey of the Delhi community. He was stunned to discover around 100 Tibetans struggling to survive on the margins of Delhi's society.
With your support we worked with Tsultrim and his team to open a community kitchen, employing three Tibetan cooks and two delivery drivers, who provided hundreds of hot meals each day to these marginalised Tibetans.
Now, thanks to your support of our spring appeal, we are making the Delhi Community Kitchen permanent. Our vision is for the kitchen to become a thriving community hub – a place that nourishes both body and soul, where people of different ages and from different cultures can come together to share a meal and get to know one another.
Emergency Covid-19 food relief
Lockdown is a challenge for all of us, but life is really tough for vulnerable Tibetans living in Nepal.
Nepal locked down at the same time as the UK last year. Since then casual workers and those working in hospitality and tourism have been unable to earn much, if any income. These Tibetans have no official papers, so can't apply for government food relief, and any savings they had ran out long ago. Many had run out of food too.
Thanks to your support we provided emergency food parcels to 800 Tibetans in Kathmandu and Pokhara during the first lockdown, and are continuing this vital work through the second deadly wave of Covid-19.
Tibetan Ability
Covid-19 had put the lives of Tibetan children with disabilities in grave danger. While the Indian government launched a Covid-19 support programme for families with disabled family members, Tibetan families rarely have the correct paperwork and so aren't entitled to any help.
Thanks to your response to our winter appeal we worked with Tibetan Ability to provide a Covid-19 response programme for Tibetan children with special needs living in India. This ensures families can afford the rising costs of medical care and can access it safely when they need to.
Pandhra Mile
We wanted to update you on an older appeal for Pandhra Mile – a settlement in the foothills of the Himalayas. Thanks to your support we are installing two toilets and washbasins (with a solar panel for hot water), as well as replacing the septic tank at nearby Dhobi settlement. Work will be completed once lockdown restrictions allow. In the meantime we are providing extra support to the community during the latest wave of Covid-19 in India.