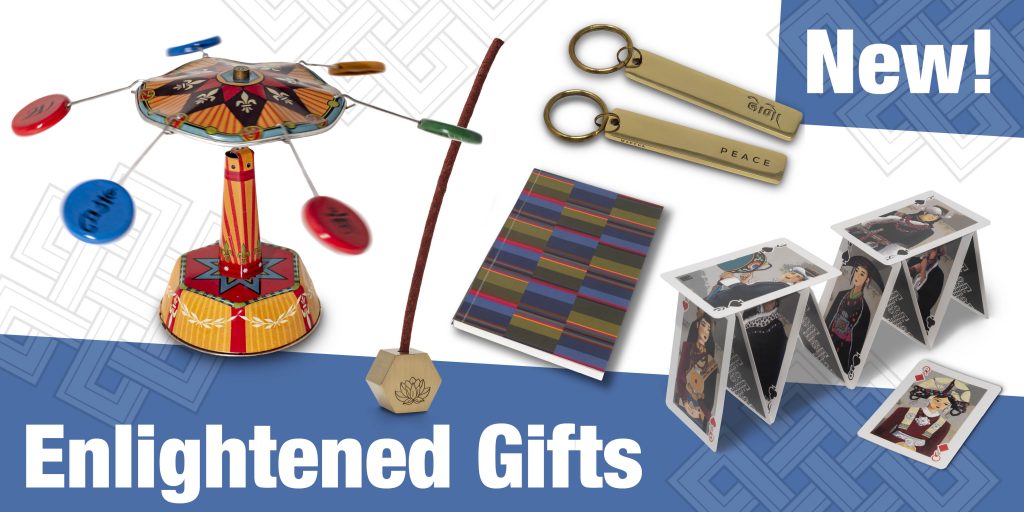 Enlightened Gifts gives us a great opportunity to find and sell unique items and support Tibetan businesses, Tibetan craft creators and entrepreneurs.
As part of our mission to empower Tibetans to build sustainable communities we have supported many Tibetans over the years to build a future for themselves and generate their own income and opportunities. It's not just investing in vital equipment or providing a start up grant, it's also ordering their products to offer to you, our supporters.
An example of this can be found at Dekyiling Handicraft Centre in India. We purchased an incense press machine for them and ever since, we've been buying their products to sell to you. Other examples include Dolls4Tibet with their yaks and fairies, Exile Creations' beautifully produced glass beads, and Clean Upper Dharamsala's handmade and printed paper and cards.
Painted thangkas
A new initiative coming later this year is to sell thangkas painted by students at Tibetan Homes Foundation.
The talent of these young Tibetans usually remains unseen in their classrooms, but we wanted to recognise their skills and hopefully inspire other students to pursue the arts. We will sell a thangka accompanied by a photo of the student who painted it. We hope you will take this chance to buy a truly unique work of art
https://www.enlightenedgifts.org/thangkas
Blossoming Broken Flowers
Last year we were delighted to work with High Peaks Pure Earth (highpeakspureearth.com) to publish Blossoming Broken Flowers: Selected Writings from High Peaks Pure Earth, the first print publication of their work!
High Peaks Pure Earth translates contemporary writing from within Tibet and the People's Republic of China, accompanied by discerning commentary, to present a unique and vital insight into Tibet today transcending barriers of language and censorship. Through poetry, articles, interviews and beautiful illustrations, Blossoming Broken Flowers is a vibrant and honest insight into life in 21st century Tibet, which we hope will reach a wider audience.
To further its reach and impact, we also distributed copies to older students in the Tibetan schools we work with in India and Nepal, as well as to the UK's Tibetan community.
High Peaks Pure Earth creates an invaluable link between the global Tibetan community in exile and their brothers and sisters within Tibet. After nearly 70 years of occupation, we hope Blossoming Broken Flowers can play a part in bolstering this sense of connection between Tibet and the younger generations of the exile community.
Thank you to everyone who has already bought a copy. If you would like to support the book you can currently buy one for the special price of £4.99!

enlightenedgifts.org/blossoming-broken-flowers
Gifts of Hope
Our Gifts of Hope give you the opportunity to buy a charity gift. We send a photo, a letter and a rangzen (freedom) bracelet to each person receiving a Gift of Hope.
These gifts really make a difference. The money raised goes towards providing hepatitis medication, enabling children to have a day out when being so far from home and family, and providing elders with the joy of being treated to a picnic during Losar. They have been very popular, and we'd like to thank everybody who has bought one so far.