Food plays a large part in the Losar celebrations, including all the favourites like khapse (a type of biscuit), dresil (a sweet rice dish) and, of course, momos (Tibetan dumplings). We are delighted to share the recipe for a less famous Tibetan snack eaten during Losar, thanks to Yeshi and Julie from Taste Tibet restaurant in Oxford.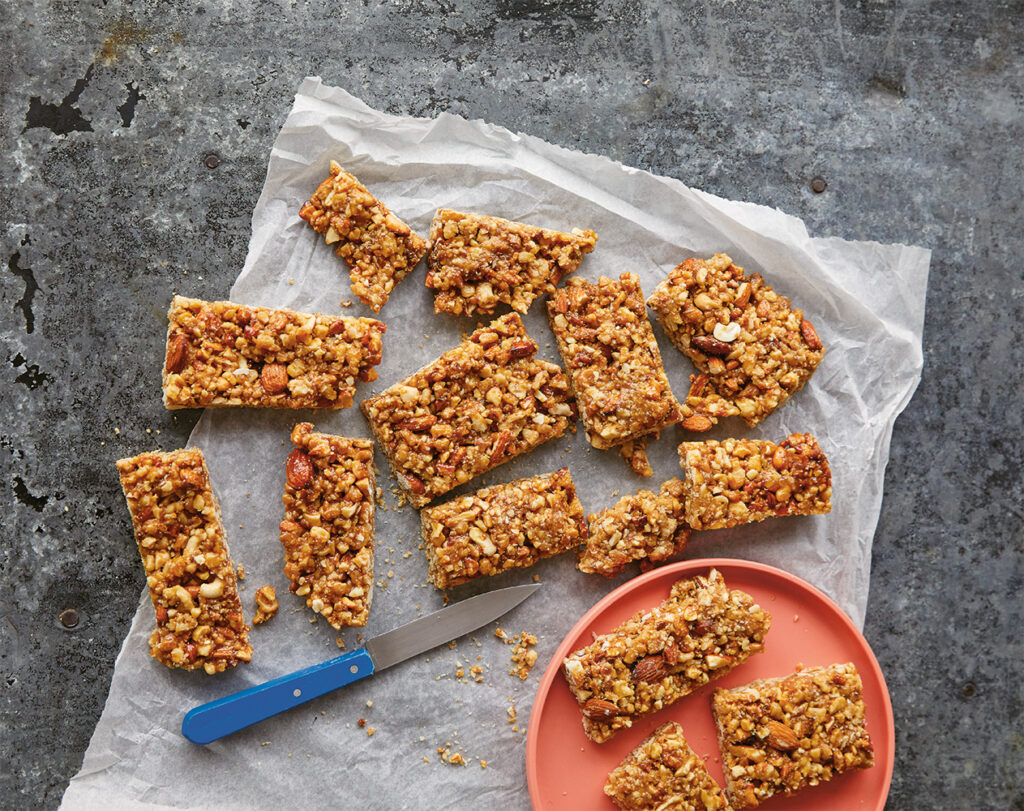 Honey Nut Granola Bars
In Yeshi's village in Tibet, where walnut trees are plentiful, these bars are widely enjoyed as snacks during the New Year celebrations.
Ingredients:
300 g walnuts
150 g cashews
150 g almonds
50 g sesame seeds
Coconut powder or Tsampa (roasted barley flour), for sprinkling
200g caster sugar
100g runny honey
Method:
Crush the nuts and place them in a bowl. Add the sesame seeds and mix well.
Line a baking tray with baking paper, and sprinkle over some coconut powder or tsampa – just enough to cover the base.
Place a large saucepan over a low heat, and add the sugar and honey. Stir well with a wooden spoon for several minutes until the mixture starts to bubble. Now add all the nuts and stir everything through gently, but thoroughly for a couple of minutes.
Empty the mixture onto the baking tray and press it down gently with the wooden spoon, getting into all the corners and making it as even as possible in the tray.
Cover with a sheet of baking paper, and use your hands to press it down onto the surface. Leave to cool and set for about an hour, then cut into small pieces to serve.
Photography by Ola O. Smit
Props Stylist: Anna Wilkins
Find lots more delicious recipes and insights into Tibet's culinary culture in Taste Tibet: Family Recipes from the Himalayas by Julie Kleeman and Yeshi Jampa (Murdoch Books, £25) available everywhere online and from their website: tastetibet.com