This Sunday (10th August) we have four brave riders taking part in the mammoth task of cycling 100 miles. The route starts at the Queen Elizabeth Olympic Park in east London, goes around Surrey and ends in style with the cyclists going through Admiralty Arch and down The Mall.
We somehow managed to convince our fellow co-worker Paul Golding (Tibet Society) in to taking part. His arm didn't need too much twisting as he is a keen cyclist who has been riding a bike since an early age.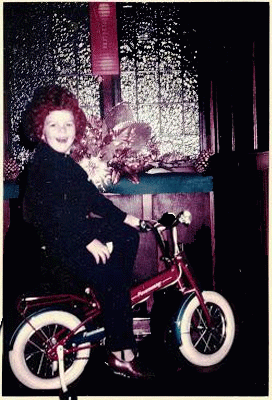 Unfortunately he wont be riding the same bike as he is in the photo above, but fortunately he doesn't need stablisers anymore.
Our three other riders are work friends, Ryan, Adam and Dave, who will "don sexy Lycra's, stretch their iron thighs and rise to the challenge of the Prudential RideLondon-Surrey 100 mile bike race".
Please support these three amigos here
We are thrilled that we have four riders in the second ever Prudential RideLondon-Surrey 100, they are all taking on 100 miles of thrills and spills in order to raise money for Tibet Relief Fund. So thank you very much to them all and also good luck to them!