Given the current situation here in the UK, we know many of you will be wondering how things are going in India and Nepal.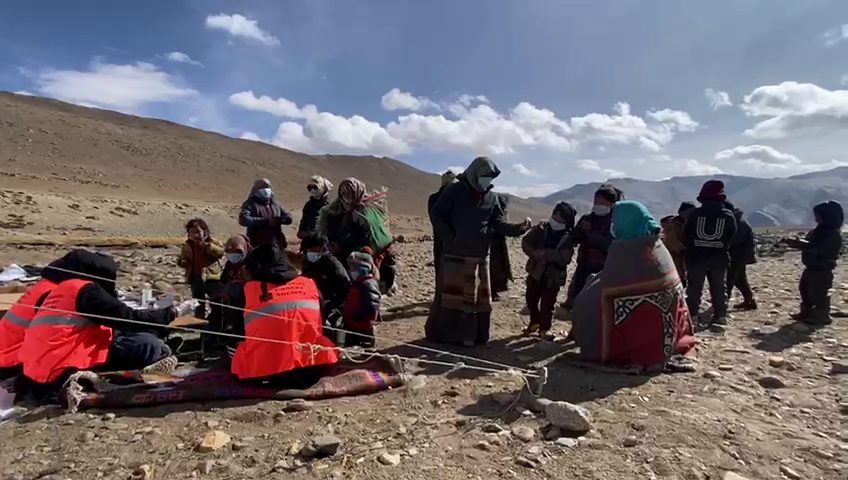 Firstly we wanted to reassure you that, due to your amazing support over the past year, Tibet Relief Fund is in a position to continue all of our projects – as well as begin some new work to help Tibetan communities through the pandemic. So a huge thank you for ensuring these communities will keep receiving the support they need to get through this challenging time and build a brighter future.
As of January 2021 there were nearly 1,500 reported Covid-19 cases in the Tibetan communities in India, Nepal and Bhutan. There had also been 1,158 recoveries and, sadly, 38 reported deaths.
Economic impact
The majority of Tibetans in India and Nepal work in seasonal, tourism-related and other informal jobs, so have no source of income during the pandemic and need extra support.
Thanks to your swift and generous response to our emergency appeal last year, our Community Kitchen in Delhi provided two hot meals a day for two months to a group of 100 vulnerable Tibetans through the peak of lockdown. We are now expanding this into a long-term project which will keep providing free meals to those in need but also sustain itself by providing low-cost meals to the local community.
Healthcare
The healthcare system in India is under immense pressure and the cost of treatment is skyrocketing. Our project partners Tibetan Cancer Society in Delhi and Help on Hand in Chandigarh are helping Tibetan patients navigate the complicated Indian healthcare system and funding their treatment. Help on Hand have also been posting emergency prescriptions to patients in their settlements to help them avoid travelling during the pandemic
Tibetan Cancer Society recently held a health camp in Delhi where hundreds of Tibetans came for free consultations and checkups. Nearly 200 Tibetans were checked for H-Pylori, and 70 were successfully treated for the dangerous bacteria. They also distributed free face masks to help reduce the transmission of Covid-19.
Thanks to Tibetan Ability Centre in Dharamsala we learnt that lockdowns disproportionately affect people with special needs. Your wonderful response to our winter appeal enabled us to launch an emergency Covid-19 response programme with Tibetan Ability Centre to ensure people with special needs are supported through winter. We'll be bringing you a further update soon.
The health post in Bakhang is nearly finished and will soon be providing vital healthcare to the 2,000 residents in this remote area of Nepal, near the border with Tibet. Thankfully, at the time of this email there had been no reported cases of Covid-19 here.
Schools and sponsorship
The closure of schools and universities in India and Nepal has been challenging for Tibetan students. Like here in the UK, schools have had to adapt through moving physical classes to online learning using various platforms.
However, we are happy to report it's looking very hopeful that students in India between the ages of 15 and 18 will be able to return to the classroom by mid-February. This will be pending a negative Covid test, which all students will be required to take. These ages have been prioritised as they have their CBSE (Central Board of Secondary Education) exams in May 2021. If this goes well, younger children may also be able to return to school soon.
For students in Nepal, online learning will continue until further notice. The situation is improving in Nepal, but until it is safe for children to return to the classroom, virtual lessons will remain in place.
As for the elders, little monks and nuns that many of you sponsor, we can confirm all are in sound health, and at the time of this report, none of our sponsored individuals have fallen ill with Covid-19.
Tibet Relief Fund is doing everything it can to ensure all our sponsored individuals are supported safely through the next stages of the pandemic, so thank you to everyone who has supported us through this incredibly challenging time.
Tibet
As you are probably aware, it is almost impossible at the moment to get any verifiable information from Tibet on the statistics and effects of Covid. The official number of recorded deaths from Covid-19 stands at one, with 107 recorded cases. Our work in Tibet is on hold.
Thank you for being there for those who need you.