On the International Day of the Girl Child, help a young Tibetan girl by sponsoring her to go to school, have a safe and nurturing place to live, regular hot meals and running water.
Tibetan families face many dangers when making the journey from Tibet and so when they do reach a place of safety where they can settle, they may stay there for years. The average length of time that refugees are displaced is now 17 years, which is a lifetime for the Tibetans who become refugees as young children or are born as such.
At the same time, they may for the first time have access to a full, well-rounded education or healthcare when they become refugees. This means that there is the potential for these life changes to be transformative. By sponsoring with us you can transform the life of a Tibetan girl for good.
Tenzin Tsekha is three years old, lives in Paljorling Tibetan Settlement and goes to nursery at Manjushree Primary School. She lives with her parents and grandparents in their small, two room home. Tenzin's father sells noodles and tries hard to provide for the whole family but often struggles. Her grandparents are too elderly to work and so her mother stays home to care for them and attend to the household chores. They would really benefit from the extra support and knowing that Tenzin will have to opportunity to continue to learn.
Tenzin Yeshi is nine years old and lives with her parents and two elder brothers in their one room home, in Paljorling Tibetan Settlement. Tenzin is the youngest in her family and is in Class two. Her parents both work very hard; her father is a cook at Manjushree Primary School and her mother sells noodles, but they find it difficult to provide for the family and make sure all the children stay in school. Her parents would be extremely thankful for any extra support.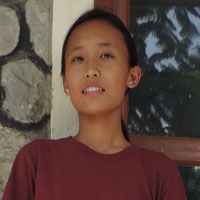 Dolma Tsering's father passed away when she was very young and so her mother cares for Dolma and her two siblings all on on her own. Dolma's mother washes the clothes of the elderly residents at a local care home but struggles to make ends meet. By supporting Dolma you would be supporting her whole family, including her mother, and make all of their lives a little bit easier.
Tenzin Yiwang lives with her parents in their one room home in Paljorling Tibetan Settlement. Tenzin's grandparents and two uncles live nearby, none of whom work. Her grandparents are too elderly to work anymore and her uncles are unemployed, unable to find work. This makes life hard for Tenzin's parents, who run a makeshift restaurant near to the settlement and try to support their whole family. By sponsoring Tenzin you are helping her to look towards a brighter future for herself and her family.
Tenzin Noryang lives with her younger sister and her parents in Tashiling Tibetan Settlement, in their two room home. She loves to sing and dance and her teachers say she is a 'well-mannered and intelligent student'! Her parents both work as teachers in the settlement and so have to leave her in the crèche when she is not at school. They are worried that they will not be able to afford this for much longer and so would love for Tenzin to be sponsored.
Start sponsoring for £16.75 a month
Start sponsoring for £200 a year
If you would like to know more please submit your name & email and we'll get back to you with more information about our sponsorship programme:[wcp_contactform id="wcpform_1″]