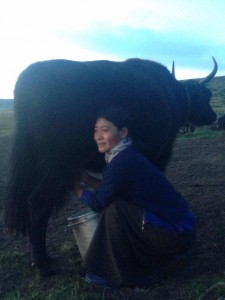 Meet Palden.
Palden comes from a small village in the Amdo region of eastern Tibet. In 2013 her husband sold their entire small yak herd and left her for another woman. Palden now single-handedly supports her four children.
Palden works hard for a well-off family in the village, milking their yak and collecting yak dung. She earns just enough to feed her children and is exhausted most of the time. School fees and medical bills are a constant worry.
In Palden's village, poverty affects most families and nearly all the local people are illiterate. Palden would love her children to get an education, so that they can have more choice and control over their futures than she had. But she simply can't afford the school fees for all four.
Most widowed or divorced women in her village are in a similar position, with no hope of ever breaking the poverty cycle.
You can help change this bleak situation. A brilliant new project could help Palden and her neighbours, and we need your help to get it started!
We want to train 15 low-income villagers – mainly single women who have families to support – to make and repair Tibetan clothes. Women like Palden will be empowered to earn their own living, on their own terms.
At the same time, the availability of local tailors will drastically reduce the clothing bills of most families in the village. They spend on average £650 per year on replacing cheap clothes from the Chinese market. Training a new group of villagers to make and repair Tibetan clothes will reduce living costs and also keep Tibetan skills alive.
Palden could earn between £5 and £7 per day from doing tailoring work at home. It could fund an education for all four of her children. Imagine how different their future could be.